Rich Chamberlain, the Monster Movie Kid, makes a triumphant return to Monster Kid Radio when he and Derek take a trip to the Island of the Burning Damned for a Night of the Big Heat (dir. Terence Fisher). It's been so long since Rich has been on the show, he and Derek catch up, play a round of the Classic Five, and talk a bit of shop. Also in this episode, Derek makes sure everyone knows about his work with Dorado Films and the new Dorado Films Podcast!
Dorado Films - http://www.doradofilms.com
Dorado Films Facebook - https://www.facebook.com/Dorado-Films-387496355808
Dorado Films Podcast - http://doradofilms.libsyn.com/
Voicemail: 503-479-5MKR (503-479-5657)
Email: monsterkidradio@gmail.com
(.mp3s of every episode of Monster Kid Radio is available for download at our barebones behind-the-scenes website at http://monsterkidradio.libsyn.com)
Dread Media - http://www.dread-media.com/
Retro Cocktail Hour / Cinema a Go Go - http://www.retrococktail.org/cinema-a-go-go.html
---
The opening and closing song "Do the Gammaray" (Girl on a Motorcycle) appears by permission of The St Kilda Gammarays - https://thestkildagammarays.bandcamp.com/

All original content of Monster Kid Radio by Monster Kid Radio LLC is licensed under a Creative Commons Attribution-NonCommercial-NoDerivs 3.0 Unported License.
Monster Kid Radio is a registered service mark of Monster Kid Radio LLC.
---
Next week on Monster Kid Radio: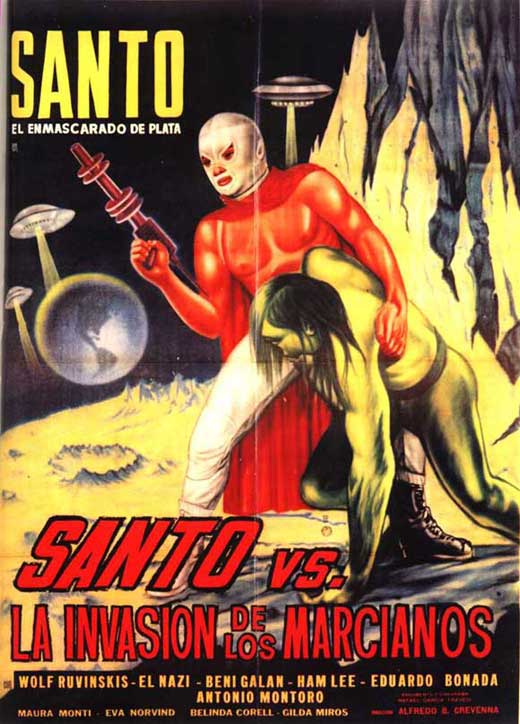 Santo el Enmascarado de Plata vs 'La invasión de los marcianos' (dir. Alfredo B. Crevenna) with Ken Blose